Grow with Peter Rabbit
We know how important it is for little bunnies to spend time in nature. So we've got a host of fun activities to keep your families busy outside this summer!
Keep scrolling for free Grow with Peter Rabbit activities, and make sure you keep an eye on our social channels for even more gardening fun!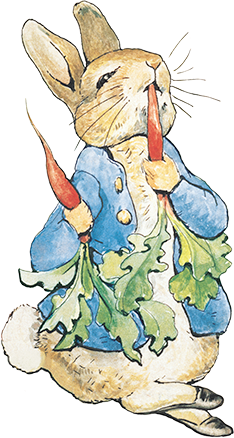 In the garden with The World of Peter Rabbit
Visit the garden we created in partnership with Grow to Know at St Clements and St James Primary school.
Shop our Grow with Peter Rabbit Collection
From personalised t-shirts, baby grows and aprons to tote bags and garden cushions - our Grow with Peter Rabbit collection has something for every bunny! All printed in the UK and delivered to your door.
Shop Now
Grow to Know and the Peter Rabbit Garden
Last year, to celebrate 120 years of The Tale of Peter Rabbit we teamed up with non-profit garden designers Grow to Know, to launch 'Grow with Peter Rabbit', an initiative that aims to bring the joy of gardening and spending time in nature to as many children as possible.
Together we created an incredible Peter Rabbit garden on a disused plot for the community of North Kensington, the borough where Beatrix Potter was born and close to the site of the Grenfell Tower. Today we continue Beatrix Potter's legacy of conservation by sharing her love of the natural world with a new generation by providing activities and resources to support children's learning and well-being.
Find out more